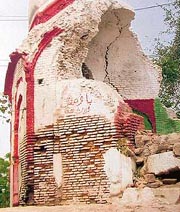 The samadh of Sher Singh, son of Maharaja Ranjit Singh, in Lahore in ruins. Its remains have been painted red and green to merge with the que nearby.
The samadh of Sher Singh (1807-1843), son of Maharaja Ranjit Singh and ruler of Sikh state of joint Punjab, in Lahore has been vandalised beyond recognition.
No trace is left of the samadh of his son Kanwar Pratap Singh. Its remains have been painted red and green to merge with the que nearby.
Bobby Singh, director of the UK-based S.K. Foundation (dedicated to preserving the Sikh heritage), stated this after a tour of Pakistan to The Tribune here today.
He also discovered that the samadh of Bhai Vasti Ram, spiritual guide of the Maharaja in Lahore, also lay derelict and vandalised.
Inscriptions on the samadh are, however, still visible. Bobby Singh said if action was not taken, the invaluable
Sikh heritage would vanish forever.
In a search for Sikh monuments, the Foundation director also visited the hostile terrain of Peshawar by imperilling his life.
He said he travelled further north into a tribal territory near the Afghan border at a great risk and ventured into the Jamrud Fort, built by the founder of the Sikh commander in 1823.
Describing his visit to Pakistan's hostile terrain, Bobby Singh said he visited the area with his security guards where ordinary shopkeepers had displayed rifles, Ak-47 rifles and rocket launchers like vegetables. They are proud selling such firearms and it is just normal in this arid landscape.
The highlight of his itinerary was the Jamrud Fort, the foundation stone of which was laid by Gen Hari Singh Nalwa and was completed in six months by Kanwar Nau Nihal Singh, grandson of Maharaja Ranjit Singh.
He said the amazing mud fort which at present was under the border paramilitary forces, still stands defiantly and some parts of the walls are 2-m thick.
The actual cremation site of General Nalwa is clearly visible, but out of bounds for the public.
He, however, was able to take some snaps despite the presence of watchful Army sentries who were clearly glancing down at him.

"I thought for a moment that perhaps I was the only Sikh that had come to Jamrud since Partition and fulfilled dream of viewing the famous Jamrud Fort".
Further northeast in Hazara, Bobby Singh located the Harkrishan Fort also built by General Nalwa during his stint as Governor of the province.
However, nowadays only some parts of the fort exist that house a police station. Originally, the fort was surrounded by water and a drawbridge must have been used to gain access into the fort.
There are numerous Sikh monuments that lie in ruins in Peshawar. Bobby Singh said the S.K. Foundation (UK) was set up for trying to highlight and educate others to the cause before it was too late.