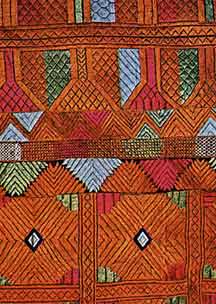 Senior Minister Punjab, Raja Riaz Ahmad, has said that the registration of different cultural products and crops as "Geographical Indications" would help in preserving age-old heritage, saving economic interests of artisans and highlighting the indigenous products of Pakistan at the global level.
It is heartening that Commerce & Investment Department is currently running a project entitled "Registration of Geographical Indications" to ensure registration of specific products of Punjab as a Geographical Indications that fulfil the criteria of being a GI as laid down in the Agreement on Trade Related Aspects of Intellectual Property Rights (TRIPs) under World Trade Organization (WTO). The project has identified certain products from Punjab for registration as a GI, namely; Basmati Rice, Punjab Heritage products including Phulkari, Chiniot wood work, Gujrat Pashmina, Sharakpur Guava, Multan Mango, Sargodha Kinnows and other Livestock Breeds.
He was addressing the inaugural session of a two-day international conference on Phulkari here at a local hotel on Tuesday. The conference has been arranged by Commerce and Investment Department in collaboration with Heritage Association. Experts from India have also been invited to share their own experiences and cultural dimensions. The Senior Minister maintained that
Phulkari is a Geographical Indication of Punjab which is an important intellectual property right of its stakeholders. "Phulkari has its history in the Indus civilization and so many styles of Phulkari have been developed, but styles of Punjabi Phulkari are more significant and because of this signification, Phulkari has become a distinctive, signifier in our literature, folklore, and folksongs." Phulkari historical embroidery, which finds mention in the Vedas, Mahabharata, Guru Granth Sahib, Heer Waris Shah and folklores of Punjab, is important and valuable for the stakeholders who have kept the tradition alive for centuries. Raja Riaz disclosed that Trade Registrar of the federal Government has approved the basmati rice product as the first geographical indication.
The Secretary Commerce and Investment, Tahir Raza Naqvi, President Heritage Hamid Malhi and Rabnawaz also addressed on this occasion. Later, two technical sessions were also held which were addressed by Miss Iffat Batool of WENGAAR, Dr Deepak Manmohan Singh, Saif ur Rehman, Dr Zafar Altaf, Dr Sutinder Singh Noor, Salahud din and Dr Vanita anchanda who dwelled upon various aspects of Phulkari.