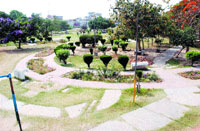 With the municipal corporation planning to spend a whopping Rs 1.26 crore on landscaping and beautifying the place, there seems to be a ray of hope for the development of the historical Nehru Garden, popularly known as Company Bagh.
The corporation has allotted the project to a Ludhiana-based landscape designing company "Haryali" which has forwarded its proposals and suggestions to the authorities for approval.
As per the plans, the park will have planned growth with grass-covered mounds all around the edges; a curving pathway to tread along the boundary and across the central portion; canopies and huts on the hillocks with benches and a fountain near the centre.
The design of the park indicates round green maze which will be made with pathway comprising small bushes, leaving it to the entrant to find the way to the exit.
The proposed plan also has a provision for a food court near one of the entrances, in front of the BSNL office building. A few tables would also be laid for the provision of enjoying food while standing.
There, of course, is a children's section alongside the other gate, in front of the
zila parishad office. The section will have colourful rides and swings for children
to enjoy.
MC joint commissioner Rahul Gupta said the work would begin in two months' time and was likely to be carried out quickly thereafter.
Once a landmark site of the city, the garden had lost its glory ever since the MC authorities got a basement parking constructed covering its front portion and ruining its facade. The garden saw a sharp decline in the number of its visitors since then.
With haphazard growth around the garden, the place has virtually become a gambling den.
Musical fountains, the only charm left in the garden, seldom work. A few rides and swings in the park are also no longer an attraction.
The park is also called as Company Bagh because it is said to have been established by the East India Company during the British era.
Historians say that after the 1960s, when Jawaharlal Nehru came here and addressed a massive gathering, the park was christened Nehru Garden.