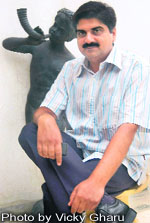 IT'S difficult to decide which of the two descriptions suit him the best — the art collector with his enviable collection of Sikh Art artifacts or the PCS guy who has joined as director of the Government Museum and Art Gallery, the latter amid controversy (A hate mail was circulated criticising the short sightedness of the administration for making a PCS officer the head of such an institution.)
Our first interaction with Navjot P.S.Randhawa was at a local gallery where he exhibited a collection of lithographs, war weapons and armaments related to the Sepoy Mutiny and subsequently during the Non-Cooperation Movement. The exhibit was a part of the 150 years of the First War of Independence celebrations. Now, he again makes news as he lends the City Museum about 50 pieces of furniture designed by Pierre Jeanneret and ready to loan a few more for the Le Corbusier Museum in Sector 18.
That's not all. During our conversation with him we also come to know that Navjot has a collection of 800 handwritten books on various topics. So what is it that makes him such a devout collector, the M. S. Randhawa connection? "Well, I have a connect with him, but not in the way people think," says Navjot explaining the connect, "M. S. Randhawa was my mother-in-law's father's elder brother." It takes time to get the clear picture of his family tree, but he supplies more information that helps us come to the right conclusion — "My maternal grandfather was the home minister of Faridkot while on my paternal side, quite a few members served as generals of Maharaja Ranjit Singh. So art and artifacts was very much a part of the family."
Incidentally, export of vintage weapons is the profession he chose much before he got in the services in 2000. "There were Britain-made guns and I used to export them to clients abroad. But soon, the stock got exhausted, so I diversified into other collector's items and this is how I added on to my collection too," he says. And his first commercial success as a heritage consultant came when his J. Akrohi hired him to do up the collections of lithographs and paintings for The Imperial in Delhi, the largest museum hotel in the world. What followed later was a long affair with Intach and Punjab Virasat Charitable Trust, where he was involved with restoration works like that of the haveli of Todar Mal in Sirhind and reviving paintings of Maharaja Ranjit Singh.
"Art has always been in my blood and now, as a director, I can live my passion," he says. And his passion includes bringing in more life to the museum by extending the closing time of the art gallery to eight in the evening, improving the caféteria and more. But then, that's another story.