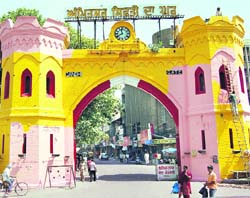 The original colour of Hall Gate, Amritsar, which was changed from pink to yellow, is being restored.
The Municipal Corporation here today restored original colour of Hall Gate following criticism by heritage lovers .
After the publication of a news in these columns about the change of colour from pink to yellow- favourite colour of Akalis on May 20 , a large number of heritage lovers and politicians, including Rajinder Kaur Bhattal , president, PPCC thronged the site to seek action against the officials who had ordered vandalisation of heritage gate .
On this, local BJP member of Parliament Navjot Singh Sidhu and mayor Shavet Malik directed Municipal Corporation officials to restore the original colour . However, onlookers expressed surprise over the wastage of public money by changing the colour of Hall Gate frequently .
Amritsar chapter of the Indian National Trust for Art and Cultural Heritage (INTACH) has documented 300 buildings in the walled city, t of which are facing a slow death due to indifferent attitude of the authorities concerned. The inventory of historical buildings, prepared by INTACH, points to the indifferent attitude of all concerned.
Original colour of Hall Gate was red, which was changed to pink during the stint of K.S. Kang as commissioner of the corporation two and half years ago.
The corporation had also started painting other heritage buildings, including the boundary wall of the summer palace of Maharaja Ranjit Singh, but now the work has been stopped.
Secretary of the Panchrang, Mala Chawla, and other artists from the city hailed the decision.