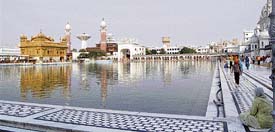 The plants that adorned the Harmandar Sahib parkarma as part of "Go-green campaign" of the shrine have been removed after two years.
Hundreds of plants put up on the Parkarma of the Golden Temple amid much fanfare in 2006 have disappeared.
A drive to beautify the interior and surroundings of the Sikh shrine had been launched by the SGPC in collaboration with Baba Jagtar Singh. The move to turn the Parkarma green had been appreciated by the Punjab Assembly and Sikhs from world over. The SGPC had announced that the plants would save the shrine from vehicle pollution.
t of the plants planted on the Parkarma have mention in the Gurbani. More than 3,000 plants of 51 varieties were planted.
The drive was inaugurated by Giani Gurbachan Singh, Head Granthi, Golden Temple, and Baba Jagtar Singh.
President of the SGPC Avtar Singh said t of the plants could not be protected due to repair work on the roofs of the Parkarma rooms. Some plants, kept on the first floor, withered due to lack of care. He said more plants would be put on the Parikarma.
Earlier, a UNESCO nominee, Dr Enamul Haque of Bangladesh, who was instrumental in recommending reports on various heritage sites, including Hampi in Karnataka, had provided useful inputs for the beautification of the Golden Temple.
Professor Haque had pointed out that the government must ban the use of vehicles around the temple complex. He had suggested the Galliara Project should have a lot of green spaces to protect the shrine from the corrosion due to pollution. The saplings planted as part of the campaign have dried up at several places.