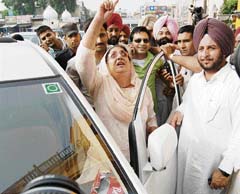 PPCC president Rajinder Kaur Bhattal leads a protest against the painting of the historical Hall Gate as yellow, the favourite colour of the Akalis on the eve of the bypoll in Amritsar on Wednesday.
The changing of the historical Hall Gate here from pink to yellow (the favourite colour of the Shiromani Akali Dal) today triggered a widespread protest with Punjab Pradesh Congress Committee (PPCC) chief Rajinder Kaur Bhattal leading the campaign to preserve the invaluable heritage.
A large number of Congress leaders, including Bhattal, Lal Singh, Dr Raj Kumar, Rana Gurjit Singh Sodhi, Avtar Singh Brar, Tej Parkash Singh and Parminder Singh, held a strong protest outside the Hall Gate and raised slogans against the Badal government. The PPCC chief sought immediate action and booking of officials who had painted the gate yellow. "Badal Bhajao, Virasat Bachao" ( oust Badal, save heritage), she said.
Eyebrows have been raised over the sudden changing of colour of the historical gate from pink to yellow on the eve of the Amritsar (South) bypoll.
Interestingly, when the SAD-BJP government had come to power in 1995, the colour of Punjab Roadways buses was changed to yellow that had received flak from the common man at that time. This also amounts to violation of the election code of conduct. Chief spokesman of the PPCC Bir Devinder Singh said a detailed complaint would be lodged with the Chief Election Commission regarding the vandalisation of the heritage gate on the eve of the bypoll.
In the past couple of years, the colour of the gate has been changed thrice. Initially, it was red which changed to pink and now it is being painted as yellow.
However, the successive state governments, including the Badal government that had promised to give governance on the pattern of Maharaja Ranjit Singh's rule, and the SGPC failed to preserve the invaluable art of Maharaja's time. Amritsar looked like a fortified city in the days of Maharaja Ranjit Singh. The fortification consisted of an immense rampart of earth and a wide ditch, apart from 12 gates, to save the town from foreign invasion. While t of the gates have been demolished, there is no trace of the ditch. Unmindful of their heritage value, t of the gates were pulled down in the past. After the death of Maharaja Ranjit Singh, many old buildings were replaced by "modern monuments" constructed by the British.
Historical gates like Ahluwalia Gate, Lohgarh Gate, Gilwali Gate have also been demolished . A haveli, belonging to the days of Maharaja Ranjit Singh, was demolished recently, reportedly for constructing a shopping complex. This haveli is opposite Hindu College here. This is the second haveli to be demolished in the past few months.
Editors Note: See earlier story Vandalism of citys heritage a non-issue