Ex-HP addl advocate-general takes a stroll down the memory lane.
Believe it or not, from Amritsar one could go to Lahore by train by spending hardly Re 1 on a ticket. Many would go to Lahore on their bicycles. Wagha, now internationally known as Wagha Border, was an unknown place.
Recalling the pre-partition days spent in Amritsar, Som Dutt Vasudeva, a former additional advocate general, Himachal Pradesh, said hundreds of Amritsaris would go to Lahore every day to see the ancient city, full of architectural treasures and famous as the finest Mughal artifact in the world. Lahore was also famous for being shoppers' paradise.
Legend has it that Lahore was founded more than 4000 years ago and named after Luv, son of Lord Rama.
Excited about the days spent in the twin cities (Amritsar and Lahore), Vasudeva says he could forget Anarkali Bazar, Shalmi Gate, Tibbi Bazar, dargah of Data Gunj Baksh and Sitla Mata Mandir, outside Shalmi Gate, even after a lapse of more than 60 years. Panjab University, University Law College, Government College, Lahore, where it was difficult to get admission in those days, were also places of interest. Thus it was rightly said a person who had not visited Lahore had, in fact, not born.
Resident of Sultanwind village on the fringes of Amritsar, Vasudeva remained on the rolls of Hindu Sabha College from 1944 to 1948. Earlier, he passed his matric from Hindu Sabha High School, Amritsar, after studying up to eighth class in Bhishan Das S.D.High School, Empress Road, Lahore.
Walking down the memory lane, Vasudeva says life in Amritsar then was worth living. In fact, it was a pollution-free city. The Company Bagh – the Summer Palace of Maharaja Ranjit Singh – and its surrounding areas used to be full of residents in the evenings who would come for stroll. Even Saketri Bagh, outside Chattiwind Gate, used to be visited by residents of nearby localities and also people from outside city. The Upper Bari Doab Canal, near the city, used to be visited by number of people on holidays, especially on Sundays, for picnic in the pre-partition days and the "Taran Wala Pul" on the Jallandhar-Amritsar national highway provided a good spot for taking bath and for diving in the canal.
The nearby mini-hydro-electric substation was operated by irrigation department officials. One could see groups of picnic revellers enjoying the salubrious climate and preparing mouth-watering dishes. Hindus and Muslims used to enjoy picnics together on holidays. Vasudeva rues that after the partition due to the apathy of the authorities concerned, the picnic spot near the city was completely neglected. In his views, it needs to be revived and also the hydro-electric substation.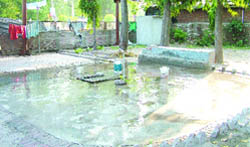 A view of the historic 'Thandi Khui' near historic Company Bagh in Amritsar.
Talking about the pre-partition days, Vasudeva says how can one forget the charm and attraction of "Thandi Khui" on the Mall Road. To escape the heat of the summer alt every resident of the city invariably wanted to go to it to quench his thirst and during the evening hours, it looked like a "mela." "Alas! because of the indifferent attitude of the authorities concerned, 'Thandi Khui' has been lost. I remember it was my daily routine that after playing hockey at the Alexandra ground (now Gandhi Ground ), I would go to 'Thandi Khui' and take two glasses of cold water and then go to my village Sultanwind."
It was unfortunate that Sultanwind, a historical village associated with Guru Hargobind, which was included in the Amritsar Municipal Corporation perhaps in 1972, presented a dismal picture of neglect, he said.
Vasudeva recollects that during holidays, music festival used to be held near Durgiana Temple in three sessions, during the day for alt a week. "I had the privilege of listening to renowned musicians like Late Onkar Nath Thakur, tabla maestro Samta Prasad, Nizakat Ali, Salmat Ali, Kishan ji Maharaj, Pt Ravi Shankar and many others," he said.