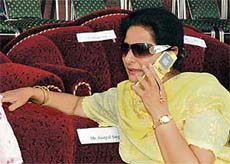 The erstwhile royal family of Patiala has disputed the claim that a steel armour put up for auction by Sotheby's belonged to the Sikhs' revered 10th guru, Gobind Singh.
Preneet Kaur, Patiala's member of parliament, Wednesday told reporters that the original armour of the guru was kept in the safe custody of the gurudwara at the New Moti Bagh palace of the erstwhile royal family.
Preneet Kaur is the wife of former Punjab chief minister Amarinder Singh – the scion of one of the t famous royal families of Punjab.
'The armour has been kept in the safe custody in the gurudwara here and is being given reverence. We are lucky that such an important part of Sikh history is still with us,' Preneet Kaur said.
She demanded that the Shiromani Gurudwara Prabandhak Committee (SGPC) – the apex organisation that looks after Sikh religious affairs – order a probe into how the other armour, which is being auctioned by Sotheby's, reached Britain in the first place.
SGPC president Avtar Singh Makkar was Wednesday livid with the London-based Sotheby's going ahead with the auction of the armour April 9.
'We have written to our prime minister and Britain's prime minister. We have also written to Britain's religious heads that Sotheby's should be stopped from auctioning anything that is part of any religion's history,' Makkar told a regional TV channel.
A Sotheby's spokesman said Tuesday that the auction house never claimed that the armour belonged to the 10th Sikh guru. He went on to add that had the armour really been that of the guru, the auction house would have priced it much more than 10,000 pounds that it was demanding.
'How dare the auction house say that they would have sold our guru's armour for a higher price? They have no right to sell anything that is part of Sikh history,' Makkar said.
The SGPC has already constituted a team of experts who will go to London shortly to find out to whom owned the armour that is now being auctioned.
Even as Sikhs in Punjab and elsewhere protested against the auction, some Sikh organizations said they would bid for the armour if Sotheby's went ahead with the auction.
Punjab Chief Minister Parkash Singh Badal also wrote to Prime Minister Manmohan Singh, himself a Sikh, Monday to get the auction stopped.