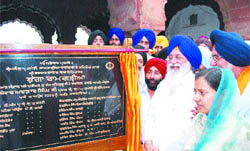 SGPC chief Avtar Singh Makkar inaugurates 'kar seva' of historical Ramgarhia Bungas in the Golden Temple.
The restoration work at the historical Ramgarhia Bungas in the Golden Temple complex is in full swing after the initiation of "Kar Seva".
Built by Sikh warriors in 1794, the four-storey bungas are being restored under the patronage of Shiromani Gurdwara Prabandhak Committee (SGPC). Interestingly, this is for the first time that the heritage experts and conservationists would look after the restoration work at the Darbar Sahib. According to the information, deputy commissioner K.S. Pannu had played an important role in convincing Chief Minister Parkash Singh that the work should be done by conservationists.
Presently being undertaken by the SGPC, the task was earlier assigned to the Vishkarma Welfare Trust headed by Onkar Singh Sandhu. The trust had planned to spend Rs 1 crore on it. However, now the trust would only assist the SGPC in accomplishing the gigantic task.
The SGPC had asked the trust to carry out the task of conservation under the supervision of a sub-committee comprising two experts from GND varsity, an SGPC executive member and heritage experts.
A Noida-based agency Heritage Conservation Management Services had been given responsibility to execute the project. The team of professionals who would guide the agency include art conservator Maninder Singh Gill, conservation architect Ajaibdip Singh Jamwal, material analyst Sri Kumar Menon and structure engineer consultant
Kunjan Poput.
During the Operation Bluestar in 1984, these Bungas were badly damaged and were later renovated by the SGPC and the Ramgarhia Society. Later some Babas of Kar Seva Wale had done colossal damage to the heritage site by converting its portion into their abode.
According to sources, some Sikh intellectuals had objected to the decision of giving Kar Seva to a particular Sikh community as it would promote caste system. So the SGPC decided to carry out the work under its patronage.