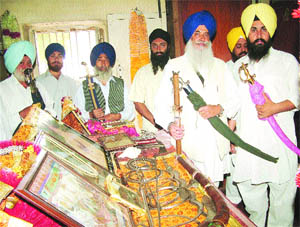 The place has rare weapons of Guru Gobind Singh and other Sikh warriors.
The rare weapons of Sikh Guru Gobind Singh and other Sikh warriors preserved at "Nihang Chhavni" near gurdwara Shaheedan is a feast to the eyes.
The work of conserving these weapons was initiated by saint turned freedom fighter Maharaj Singh and is presently being looked after by his great grandson Gurpartap Singh Tikka.
The family has preserved many historic things, including 155-year-old hand-written book "Bir Mrigesh".
The book was written by Pandit Sher Singh and is a primary source of information about Sikh history. Written in Gurmukhi script, the book has more than 2,000 pages.
The book presents a first-hand record of intrigues, conspiracies, and murders after the death of Maharaja Ranjit Singh. Besides, it deals with the birth of Sikh Raj in Punjab under Maharaja Ranjit Singh.
Talking to The Tribune, Tikka said, "Maharaj Singh was a descendant of Baba Bir Singh, a Sikh saint. After the death of Maharaja Ranjit Singh, people wanted him to become their ruler." Bir Singh believed in non-violence and during a battle between Lahore Darbar and his followers at Harike, Bir Singh directed his men not to fire. He and his followers preferred to lay down their lives instead of taking up arms, he added.