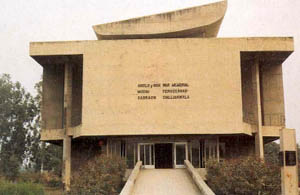 The Ferozeshah Anglo-Sikh War Museum, constructed in memory of the valiant Sikh soldiers who died during the Anglo-Sikh wars of 1845-46, today portrays a picture of apathy and neglect. The museum today stands alone on the actual war site where the two Anglo-Sikh wars were fought in the nearby villages of Sabraon, Mudki and Ferozeshah.
Located on the banks of twin canals near Ghal Khurd village on the Ferozepur-Moga road, this memorial now looks neglected amidst a sprawling 4.5 acre of lawns with dried grass and defunct fountains. It seems as if the successive governments at the state and Centre have escaped responsibility in a similar fashion, as did the Sikh generals, who deserted their brave soldiers during the Anglo-Sikh wars.
The moment you enter this monument, you discover two antique cannons with broken wooden wheels standing guard on the main gate. Much to your amusement, inside this neglected building, one finds priceless collection of murals and wall paintings depicting battle scenes and portraits by renowned painters like Kirpal Singh and Jaswat Singh.
Huge portraits of Maharani Jinda, Sham Singh Attariwala, Faquir Azizudin, Diwan Mool Chand, Lord Hardinge, Lord Gough and Lord Dalhousie add grandeur to the walls. The condition of all these priceless Sikh war artifacts is equally bad.
In the absence of any guide, the embossed writings on the walls guide the visitors, who visit this monument rarely. Many of the priceless pistols, out of the huge collection of weapons and arms used during the war, are reportedly missing for a long time.
In the year 2006, a team from the Archaeological Survey of India (ASI) had visited this site and some other memorials of immense historical and architectural importance in Ferozepur.
The team which comprised director (conservation), National Museum, New Delhi, superintending archaeologist, Chandigarh, and some other members, had admitted that this monument had a lot of heritage value and needed immediate efforts for the maintenance and conservation, but nothing has been done till date.
An IAS officer, Kulbir Singh Sidhu, who was posted here as DC and later as commissioner in 2006, did try and make some efforts to preserve this marvel of Sikh history but without any tangible result.