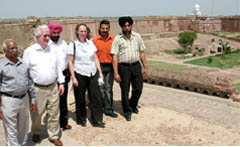 A team from the World Tourism Organisation inspects the Bathinda Fort to explore its tourism possibility.
To prepare a detailed report for the state government on the basic potential and feasibility for developing tourism in Punjab, a delegation of the World Tourism Organisation (WTO) and officials of the state tourism department visited the city on Tuesday.
The two-member delegation comprised James Plannery, expert in legal matters, and Jackie Robson, specialist in statistics, while Sonali Roy, conservation architect, Balraj Singh, state tourism officer, Bikram Bahia and Satish Arora, local hoteliers, assisted them.
The team visited Qila Mubarak, rose garden and the lakes to have a vision for the possibility of development. Earlier, the team had visited the Takht Damdama Sahib at Talwandi Sabo and was also planning to inspect zoo and Putlighar in the city.
While talking to media persons at the fort, the WTO representatives said, "The Punjab government has hired us to submit a detailed report about the scope and plans for the over all tourism development in the state. We suppose to submit the report in the first week of September, after a fieldwork of six months."
"We have bisected the work in two stages, while the first stage has already been completed. We two are in Punjab from the last more than two weeks and have already visited Amristsar, Patiala and some other stations also. In Amritsar, we have found a good scope for developing the Freedom Fight project," said James Plannery.
Adding to his statements, Jackie Robson said, "We have been taking the project as whole and then we will make some sub-projects and finally it will be cumulated and report will be prepared."
Overwhelmed with the hospitality received from the Punjabis, Robson said, "People in the state possess a quality, which deserves a lot of appreciation."
Speaking further over the feasibility of tourism development in the state, they said, "We have observed that tourists have now inculcated in themselves the interest in new fields, heritage and even teachings also. So from all aspects Punjab has a lot of potential."
When asked about the motive of the tourism development in the state, they replied, "The motive is to generate income, then to create jobs and to decentralised the attraction points of the state."
"When we chalk out the plan, we will consider the aspects as how many visitors would come, why and from where would they come and what would be their purchasing power," they added.
"It will be around 100-crore dollar project, which is for five districts of the state. The state and centre governments are ready to spend the money but only after checking out all pros and cons," said Balraj Singh, tourism officer from Punjab's tourism department.