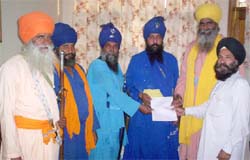 The five-member working committee of the Shiromani Panth Budha Dal declaring Surinder Singh Babbar as the legal heir of Baba Santa Singh on Wednesday.
Shiromani Panth Budha Dal (Panjwan Takht) 'guru gaddi' row took new turn today. A five-member working committee of the dal, comprising mahants of various deras met here today and declared Surinder Singh Babbar, a nephew of Baba Santa Singh chief of the dal as his legal heir.
Baba Santa Singh, an octogenarian, is admitted to the intensive care unit of Rajindra Medical Collage, Patiala, for some months and was not in 'senses' to give any statement or declare his 'will' for appointing his legal heir.n September 21, last year, the row over 'guru gaddi' turned bloody. There was a clash between the two groups of the Nihangs at main dera in Patiala, in which four Nihangs were killed in firing.
A group of Nihangs headed by Balbir Singh, a former disciple of Baba Santa Singh took control of the main dera and educational institutes run by it. Baba Santa Singh was ex-communicated from the Panth by Akal Takht when he carried out 'kar seva' of Akal Takht after Operation Bluestar. At that time Balbir Singh was his close associate and considered his heir but he left Santa Singh following Akal Takht's decision.
Baba Santa Singh
However, after Baba Santa Singh was brought back into the Panth, Balbir Singh again joined hands with him. At a function organised at Talwandi Sabo on October 1, last year, a section of Nihangs declared him heir of Santa Singh.
But, the other group took the dispute to the sessions' court of Patiala where the matter was pending for final orders. The court had appealed to the near and dear ones of the ailing Baba Santa Singh through advertisements in newspapers to appear before the court on or before April 17 so that a 'guardian' could be appointed.
Keeping in view the legal complications in the dispute, Baba Dyal Singh, Baba Malkit Singh, Baba Kulwant Singh (mukhtiar-e-aam), Baba Sukhbir Singh alias Baba Mithu Singh and Baba Harvant Singh ,members of the five-member working committee of the dal met here this afternoon under the guidance of Baba Joginder Singh, who was the acting chief of the dal and declared Surinder Singh Babbar legal heir of Baba Santa Singh.
A properly dressed Nihang looks smart and real son of the Guru. Today, when the entire Nihang community gets together at Anandpur Sahib or Hazur Sahib and nagaras (drums) are sounded loud it clearly signifies all those weak hearted person gets enough courage to stand up to tyranny.