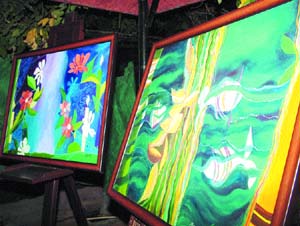 The juxtaposition of playful animal figures with embroidery motifs drawn from "phulkari" in paintings at the art exhibition titled "Mind Games" denoted extinction of beauty. The artists – Daphy Brar and Sonal Singh – said though both of them preferred using two different mediums, yet each of the 12 paintings mirrored the "mindscape." While Daphy explores the purity of oils, Sonal Singh celebrates acrylics.
Daphy says, "I have used coloured blocks for the embroidery motifs drawn from phulkari, which make a wonderful combination with the animal figures drawn from my imagined world."
"The animals are native to my land (Malwa region of Punjab) and have found a place in the phulkaris, the traditional embroidered textile of Punjab. Another companion of my childhood was "Champak" magazine where "Chamtaka" and "Doob Doob," a fox and a crocodile, were her imaginary friends," she says.
Sonal adds, "I love the purity of colours and loves to use tube after tube. I draw my references from the colour palette of the French Fauves, particularly Matisse. It is apparent in the generous use of the colours and thick paint. There are no Indian references either in composition or in style, perhaps in the use of elements."
"The making of these paintings was in itself an enriching experience. The rendering of each line, dot, beads, spirals here and there, addition of each element and the whole process was of celebration. I paint only when I am happy," says Sonal Singh.