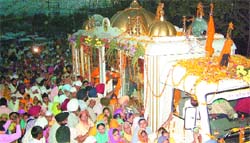 Religious fervour marks Gurutaa Gurgaddi Yatra in Kapurthala on Friday.
The state government is hopeful that the Centre would soon release a sum of Rs 140 crore to revamp the facilities and infrastructure in Sultanpur Lodhi, the place where Guru Nanak attained enlightenment.
Talking to The Tribune, education minister Dr Upinderjit Kaur, who received the Gurutaa Gurgaddi Yatra at Dadwindi, near Kapurthala, said the existing facilities needed to be upgraded in view of the importance of the city and also to promote religious tourism.
"We are sure that the Centre would allot us the money under the urban renewal mission. A high-powered meeting in this context will be chaired by the union urban development minister Jaipal Reddy in Delhi on Monday," she added.
In addition to this, the government has sent another proposal of Rs 113 crore to the state government wherein more facilities and infrastructure could be created in and around the city. This was done since the Centre had already approved the schemes of seven other important religious cities in the country.
In case of Nanded, where Takht Sachkhand Sahib is located, the money has already been spent to create additional infrastructure facilities in the city. If approval is granted, we will fulfill the needs of the city for another 20 years, the minister added.
Earlier, accompanied by hundreds of devotees, Upinderjit welcomed the yatra and presented siropas to the Panj pyaras, leading the march. A contingent of the Punjab Police presented a guard of honour on the occasion.