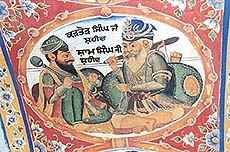 The SGPC has finally decided to engage experts for the restoration work of ancient Ramgarhia Bungas and Gurdwara Baba Atal, keeping in view the wanton destruction of heritage buildings through "kar sewa" in the past.
Talking to The Tribune today, SGPC chief Avtar Singh said a meeting with heritage experts, including scholars from Guru Nanak Dev University, would be held within a fortnight so that conservation work could be carried out at the earliest. The committee passed a resolution on February 18 to start the renovation work, expressing concern over the deterioration of the frescoes and artwork at Gurdwara Baba Atal. It decided in principle to entrust the restoration work to Heritage Conservation and Management Services, New Delhi.
Earlier, the kar seva, carried out to repair the age-old murals at the gurdwara and historical bungas, had earned flak from the heritage lovers. During the previous kar seva carried out in 1992, bathroom tiles had replaced the frescoes on the walls of the ground floor of the gurdwara.
The SGPC chief said Baba Harbans Singh of Delhi had been asked to vacate the building of Ramgarhia Bungas so that conservation work could be started at the earliest. Kar seva wale babas, have made the bungas as their abode. Their stay there has resulted in damage to certain portions of the building. They had built walls under the arches on the ground floor and fixed doors to convert verandahs into rooms. Nanakshahi bricks were plastered and painted at many places. Owing to hindered ventilation, there is seepage in the basement of the bungas.
Director, cultural resource conservation initiative, Gurmit Rai, however, expressed her satisfaction over the decision of the SGPC to carry out conservation work through experts. The causeway and the marble parapet above the decorative flooring of the parikarma too need conservation, she added.
Editors note: The decision process by the SGPC regarding the restoration work has been going on for many months.
see http://www.punjabheritage.org/architectural-heritage/expert-hands-likely-to-restore-bungas-baba-atal.html