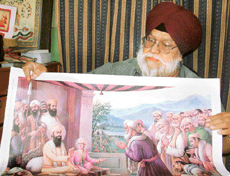 The replicas of fresco (naqqashi) paintings, which once adorned the walls of the Golden Temple and Akal Takht, have been preserved by a family here using modern digitalised technology.
Four generations of this family (the Danish family) have been associated with the preservation of the fresco paintings of Sri Harmandar Sahib and various other gurdwaras.
Satpal Danish's grandfather Bhai Gian Singh belonged to the line of naqqashes started by Bhai Kehar Singh. Gian Singh was an expert in fresco-painting. He introduced a number of innovations in the fresco painting through 32 years of continuous practical study during his stint at the Golden Temple.
Gian Singh was responsible for a portion of the naqqashi and Turki work near the Harki Pauri near Sri Harmandar Sahib. He used to be called in by the SGPC as a consultant whenever any fresco in the temple complex had either to be refurbished or commissioned. He was endowed with special talent to work on delicate subjects.
His son G.S. Sohan Singh got his training from a well-known artist Hari Singh who was then working with the famous Elphinston Theatrical Company of Kolkata. They both came back to Amritsar in the year 1931-32 when the company wound up its operations.
Sohan Singh's name came into limelight in the art world when he designed the first multi-coloured portrait of a Sikh warrior Baba Banda Singh Bahadur. He tackled multifarious subjects in the field of art, apart from working on techniques connected with the Sikh School of Painting founded by Maharaja Ranjit Singh.
He won dozens of gold and silver medals, cash prizes as well as commendation certificates in many art exhibitions held from time to time throughout the country. He also remained a life member of the governing body of the Indian Academy of Fine Arts.
Sohan Singh's sons Surinder Singh and Satpal have kept their family's traditional work alive by preserving the fresco painting using digital cameras and modern computerised printing machines.
Bhai Gian Singh's great-grandsons, Harpreet Pal Singh and Hardeep Singh, too, are following the footsteps of their ancestors. They have been preserving Sohan Singh's art work and showcasing it on website.
Satpal Danish said that today's artists had neither the experience nor the creativity necessary for paintings like the naqqashes. "A naqqash's work is one of labour and love," he said.
The centuries-old intricate fresco paintings on the walls of the Akal Takht had been reduced to rubble during the militancy in Punjab. Whatever naqqashi work survived the Operation Bluestar in June 1984 was completely done away with by militant youths in January 1986. The exquisite naqqashi work that included paintings of Hindu gods and scenes from Hindu mythology, including the portrayal of Krishna and Sudama, will never be created.