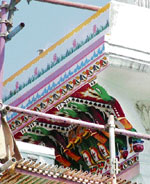 A part of the upper portion of Darshani Deori in the Golden Temple being repainted with gaudy colours.
Repainting of the upper portion of Darshani Deori, which leads to sanctum sanctorum of the Golden Temple, with gaudy colours, crude workmanship and inappropriate materials through "kar sewa" has been stopped on the intervention of senior SGPC officials.
The repainting was being carried out by the followers of Baba Harbans Singh Delhi at behest of the SGPC.
Gurmit Rai, director, Cultural Resource Conservation Initiative, who visited the Golden Temple yesterday, raised the first objection.
Harbhajan Singh, manager, Darbar Sahib, said the "kar sewa" was stopped immediately when Dalmegh Singh, secretary, informed him that experts were being called to carry out the repainting work.
Senior SGPC officials also found that the artwork being done through "kar sewa" was not as per the traditional work. Earlier, heritage experts had raised objections over the damage of heritage of Ramgarhia Bungas in the Darbar Sahib Complex, which has been in the possession of the followers of Baba Harban Singh Delhi. Some portions of the Ramgarhia Bungas were being used for residential purposes, much to the chagrin of heritage lovers. Those who carried out the "kar sewa" of the buildings had already damaged many invaluable murals, frescoes and other artistic works in the Golden Temple, Baba Atal and Ramgarhia Bungas due to lack of expertise. Gurmit Rai said while the form of the building was intact, finish continued to be altered extensively though some remnants of the original finishes exist even today. She said all efforts should be made to conserve the historic fabric.