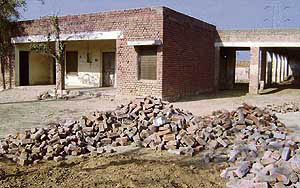 A view of the dilapidated building of the veterinary hospital at Badrukhan village.
It seems that Chief Minister Parkash Singh Badal has forgotten alt all promises made to the residents of this village (birthplace of Maharaja Ranjit Singh) on the occasion of the birth anniversary of the Maharaja at a state-level function on November 13 last year.
Badal had promised the installation of a statue of Maharaja Ranjit Singh by developing a park on an acre here, but no official has contacted the village panchayat in this regard so far. This is despite the fact that the panchayat is ready to provide land for developing a park on an acre and installation of the statue there.
It was also promised to the village that a grant of Rs 10 lakh for the buildings of primary and senior secondary schools would be provided, but even after the passage of three-and-a-half months, no money has been received by the administration.
The chief minister had also promised to send Rs 3 lakh for the renovation of the building of the veterinary hospital, which is in a dilapidated condition. The veterinary hospital is being run from the panchayat ghar for the past more than one year. The grant of Rs 3 lakh has also not reached to the district authorities so far.
Besides, he had also announced a grant of Rs 2 lakh for the Maharaja Ranjit Singh Youth Sports Youth Club, Badrukhan, for the setting up of a gymnasium and a room. However, the club is still awaiting the grant.
Badal had also assured the villagers that he would send sufficient funds for the development of three cremation grounds and bus stand of the village, but nothing has happened in this direction also.
The construction of a pucca road from Ubhawal village to Badrukhan village was also announced by Badal, but no such road has been constructed on this route so far.
Another significant announcement for starting the construction of an Adarsh School after Maharaja Ranjit Singh in three months in the village has not been executed so far, as the village panchayat is reportedly reluctant to give land for the school on the plea that the land is costly.