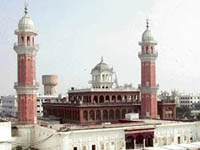 Ramgarhia Bungas on the Golden Temple complex in Amritsar.
The kar seva of historical Ramgarhia Bungas on the Golden Temple complex has been assigned to the Vishavkarma Welfare Trust by the SGPC, which will spend more than Rs 1 crore on its conservation. It is likely to begin from Baisakhi.
This is for the first time that the kar seva of the historical monument will be carried out by world-renowned conservators under the supervision of the SGPC and Sikh scholars.
The four-storeyed Bungas built by Sikh warriors in 1794, got damaged during kar seva earlier.
The SGPC has asked the trust to carry out the conservation of the monument under the supervision of a sub-committee comprising two experts from GND varsity, an executive member of the SGPC and heritage experts.
The agency that would execute the project is Noida-based Heritage Conservation Management Services. The professionals who would undertake the work are Maninder Singh Gill, art conservator, Ajaibdip Singh Jamwal, conservation architect, Sri Kumar Menon, material analyst, and Kunjan Poput, structure engineer consultant.