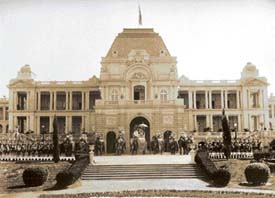 A French historian writing a book on the ties between his country and the erstwhile kingdom of Kapurthala, today expressed "unhappiness" at the dilapidated condition of several historical buildings.
Jean Marie Lafont, who along with four others, on Thursday visited this town famous for its French architecture, said they were impressed to see the old monuments but "unhappy" over their dilapidated conditions.
Comparing the old monuments, especially the Jagatjit Palace, which is a replica of the Palace of Versailles, he told reporters, "The Palace in France has been declared a national monument and is more well maintained. The government should maintain these historical buildings for future generations."
Lafont visited the Jagatjit Palace, which now houses Sainik School Kapurthala, district courts complex, Shalimar Garden, Gole Kothi and Old Rest House.
The Frenchman said he was a frequent visitor to this town since 1973 and has been here more than ten times.
He said he was also writing a book on French-Kapurthala ties during the days of erstwhile Maharaja Jagatjit Singh Ahluwalia, who had visited France several times during 1920-21.
He has also written about the kingdom of Maharaja Ranjit Singh and its ties with France.
Later the tourists met Kapurthala Maharaja Brig (Retd) Sukhjit Singh Ahluwalia at his residence.