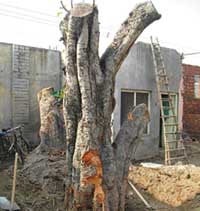 One of the trees cut in the Pingalwara complex in Amritsar on Friday.
The Pingalwara Society here today received flak from the general public and various social organisations for axing more than 100-year-old trees in the Pingalwara complex. The society has chopped four trees, including a peepal and a banyan, in the front courtyard of the complex for constructing waiting rooms for donors of the charitable society.
Some of the leading NGOs and social workers associated with the society said they were shocked that the very institution which had launched a campaign for planting trees to make the environment clean, besides establishing a nursery of its own at the Mannawala complex and other areas, were brutally cutting century-old trees. They said these trees had heritage value for the esteemed institution. Even some of the employees who had been associated with the society for the past couple of decades were shocked over the decision of the society.
However, Padma Shri Inderjit Kaur, president of the society, said due to scarcity of space in the complex the trees had to be cut to make way for the rooms. She said there was pressure on the society for constructing the rooms as the NRIs who had generously donated funds for the institution wanted that there should be some place where they could take rest after travelling from far-off places. She said the society had a nursery of its own and distributed more than 50,000 plants every year. She added that she too felt pained at the felling of the trees.
But social activists opined that instead of cutting the trees, the society should have converted the present dispensary for the stay of the donors and shifted the dispensary to the backyard of the complex by constructing a new building.