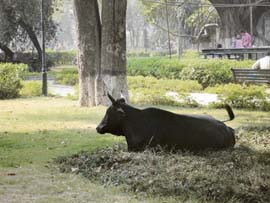 Famous, but alt abandoned Baradari Gardens here is likely to regain a bit of its old glory with the Punjab Chief Minister Parkash Singh Badal directing the district administration to ensure proper upkeep of the historical site.
Taking note of the news on the plight of the gardens published in the columns of The Tribune and Punjabi Tribune recently, Badal instructed the Patiala division commissioner S.K. Ahluwalia and the commissioner of the municipal corporation over the phone to look into the problem and take remedial measures to ensure cleanliness at the historical site. Soon, officials of the district administration, led by S.K. Ahluwalia and deputy commissioner D.S. Grewal, visited the gardens this morning along with DPRO Ishwinder S. Grewal. More than 12 officials of Irrigation, Horticulture and PWD Departments were accompanying them. He found that lack of sanitation facilities, unkempt thick grass and choked water channel meant for supplying water to the gardens were the biggest problems to be dealt with immediately.
"I have instructed the deputy director, horticulture, to ensure proper upkeep of the place and plant seasonal and ornamental plants there," said Grewal.
"Moreover, the officials have told me that the channel had been cleared of the silt and water supply in it would be resumed by tomorrow morning. Proper irrigation of the gardens would start tomorrow," he said.
Ahluwalia said to find out a permanent solution to maintaining upkeep of the gardens, a committee would be formed that would monitor development of the place.
Corporation commissioner M.P. Arora said though the area did not fall under the jurisdiction of the civic body, it would clear the place of the garbage.
See previous story: http://www.punjabheritage.org/cultural-heritage/baradari-gardens-of-poor-upkeep-wild-growth–garbage.html