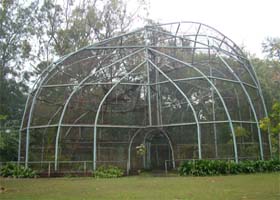 The bird enclosures at Ram Bagh have been lying vacant after the mini-zoo was shut down in 1997
The 2.5 acres of land in the historic Ram Bagh, which was once a mini-zoo and use to house 22 species of birds and animals, including stag, deer, bears, monkeys, crocodiles and otters, still awaits a proposal to develop it.
Though in 2004 a proposal to set up a nursery was on the cards and the horticulture department had started working on it, the idea fizzled out due to lack of initiative. Interestingly, even in the absence of funds the department carried out the task of collecting plants from different parts of the city and then developing them into saplings.
After coming to power mayor Shawet Malik changed the plans for the site. He said, "There is no point in setting up a nursery at a prime location like Ram Bagh. The area would be now developed into a tourist spot under public-private partnership. The initiative would help visitors to have a better time at the summer palace of Maharaja Ranjit Singh."
However, nothing seems to have changed on the ground and the place still has empty cages and enclosures.
The mini-zoo at Ram Bagh was the only zoo in the entire district and used to draw a number of visitors, especially children. But after an order of Parliament, in keeping with the Indian Wildlife Act, 66 mini-zoos, including the local one and seven small zoos across the country, were closed in 1997 and the animals and birds from here were shifted to the Chattbir zoo.
Social worker Brij Bedi feels the corporation should invite Nek Chand, who built the world-famous Rock Garden in Chandigarh, for beautifying the place. "Such a large area is lying unused even though the authorities have been making tall claims of taking steps to attract more tourists to the city," he said.
Municipal commissioner D.P.S. Kharbanda said, "Any decision on developing the area would be taken only after consulting the Archaeological Survey of India (ASI) as it is already working on protection and conservation of the historic buildings located inside Ram Bagh."
Ram Bagh was set up by Maharaja Ranjit Singh in 1819 in an area of 84 acres, say historians. His summer palace is located in the centre of the garden, which has now been converted into Maharaja Ranjit Singh Museum. In one corner of Ram Bagh, a statue of the Maharaja is put up, which is also visible from the main road, and the garden has Maharaja Ranjit Singh panorama at its other end.