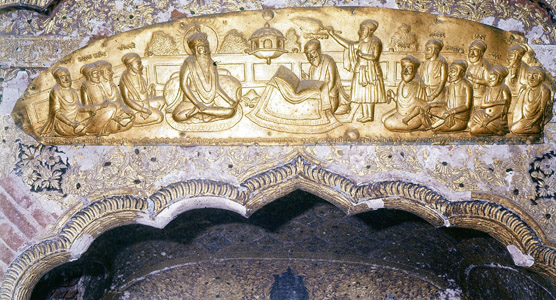 The Golden Temple is exposed to the worst-ever environmental hazards and its centuries-old marble structures are falling prey to the vehicular and air pollution. The measures taken to protect the Taj Mahal from widespread pollution should be adopted here also to safeguard the 16th century shrine, which attracts more visitors daily than the world's wonder in Agra.
These were the observations made by a special team of pollution control scientists that arrived here today for on-the-spot surveys to study the impact of environmental pollution on the shrine.
"Like Taj, vehicular traffic should be restricted to the shrine. Vehicles should be stopped 500 yards away," said RC Trivedi, Additional Director, Central Pollution Control Board (CPCB), New Delhi.
He said their team arrived after the earlier surveys conducted by the Punjab Pollution Control Board (PPCB) made alarming observations. Apart from the vehicular pollution, their studies would also focus on the pollution-causing machines, including chapatti-maker and other gadgets installed here. "We will carry out a comprehensive study and all aspects of the impact of pollution will be analysed," he said.
Meanwhile, the Shiromani Gurdwara Parbandhak Committee (SGPC) had also expressed concerns over the "blackening" of the rare marble. "A joint survey by the PPCB and CPCB is on and they will suggest precautions and recommend measures to protect the shrine," said SGPC secretary Harbeant Singh. He said there was talk of restricting vehicles in 500-metre radius around the temple.
The shrine also houses rare frescoes and wall paintings that were also exposed to the vagaries of the time and capillary effect, as the shrine is situated in the middle of a water body.
"Pollution is largely caused by petrol and diesel vehicles. Refineries in the vicinity, firecrackers' show near the temple and smoke-emanating from community kitchen are also posing a threat," said another member of the team.
The survey was being conducted on the directions of Punjab Cabinet Minister for Environment Bikramjit Singh Majithia, who had received complaints of pollution near the Darbar Sahib.
Trivedi, who said the gold-platted domes of the temple were also in danger, said though pollution in Amritsar was less than Agra, there was congestion and human activities near the Darbar Sahib.
HK Parvana, a senior scientific officer with the PPCB who is accompanying Trivedi, said they would soon suggest appropriate measures.
Majithia said the survey was ordered as it was the duty of the government to keep the surroundings of the shrine clean and free of pollution. He said he would make comments after investigations were concluded.