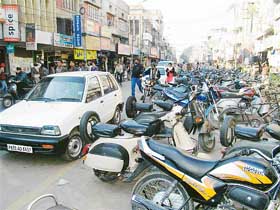 Union Minister of State for Commerce Jairam Ramesh during his visit in the holy city expressed shock over the prevailing road infrastructure in the holy city.
Talking to the media persons here Friday he said that this is highly unfortunate that city like Amritsar lacking basic road infrastructure and in this circumstances what could be the impression visitors would take away from Amritsar.
"I am also surprised over the traffic chaos and encroachment at all the roads leading to the Golden Temple and particularly enormous encroachment exactly around the Golden Temple is highly shocking. Here it becomes the duty of the Punjab Government to come forward to do the needful in this regard", said Jairam.
"After seeing the pathetic condition of road infrastructure and chaos around the holy Golden Temple, I hold talk on phone with Deputy Chairman, Planning Commission, Government of India Montek Singh Ahluwalia and apprised him about the condition of city that belong to KHALSA (Pure and pious Sikhs)", said he.
The city of KHALSA should be like Khalsa and not like this, he said
Adding further he said that Montek informed him that State Government expressed its inability to match the 50% money to avail grant that was supposed to be sanctioned for the development of holy city under the 'Jawahar Lal Nehru Urban Renewal Mission' scheme from the Union Government.
Jiaram said that he loves the holy city and asked the Montek to amend the condition of 50% matching money to avail the scheme as it should be reduced to 25% so that road infrastructure in the holy city could be improved practically.