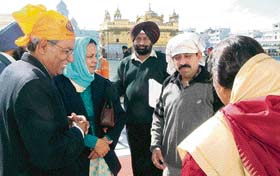 R.C. Trivedi, additional director, Central Pollution Control Board, along with members of the Punjab Pollution Control Board, at the Golden Temple on Monday.
A high-level team of the Central Pollution Control Board (CPCB) and the Punjab Pollution Control Board (PPCB), headed by Dr R.C. Trivedi, additional-director, CPCB, visited the Golden Temple complex here today to make its surroundings free from pollutants on the pattern of the Taj Mahal.
Dr Trivedi said though a preliminary survey was being conducted after installing pollution-measuring gadgets, yet there was a need to restrict vehicular traffic in the 500-m surroundings of the shrine. If these measures were taken, the Harmandar Sahib would be able to retain its golden shine.
The CPCB and the PPCB would conduct a joint scientific study to save the Golden Temple from the ill effects of rising pollution in its vicinity. The team members also suggested to use low-intensity crackers and fireworks during Gurpurb or "Bandi Chhor Divas ( Diwali). He, however, said the use of LPG for cooking of the langar did not cause much pollution. Dr Trivedi suggested that the factories which could not be dislocated from the vicinity of the Taj Mahal were put on LPG.
The PPCB, which has been monitoring environment around the Golden Temple, had found high levels of harmful nitrous oxide and sulphur dioxide in the ambient air. The experts had also cautioned that fireworks release these gases which could react with the marble leading to its corrosion and blackening. Miniature paintings and gold plating were also under threat from the harmful gases, the experts added.