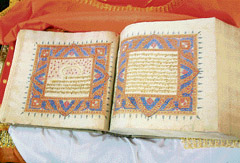 HYDERABAD: Several old volumes of Guru Granth Sahebji and other religious books which are more than five decades old and cannot be used for prayers any longer were, strictly adhering to the tradition, consigned to flames at the newly-constructed Angitha Saheb, Sikh Chawniat, Kishanbagh on Sunday.
The entire exercise was undertaken with the supervision and guidance of Baba Narinder Singhji, chief priest, Sri Guru Granth Sahebji, Choti Jawadi, Ludhiana and Sri Goindwal Saheb, Punjab amidst the chanting of holy hymns of 'shabd keertans' and as per Sikh rituals. This was the second unique 'Agan Bhent Seva Samagam' to be organised in Hyderabad.
Several old Guru Granth Sahebji, Pothian and other religious books from Andhra Pradesh, Tamil Nadu, Karnataka, Maharashtra and other places were brought to Hyderabad for being relegated to the fire. The Sikh community of South India, with the approval of Akal Takhat Saheb, the supreme temporal body of Sikhs, performed this ritual. The ceremony was attended by prominent Sikh leaders including Jathedar Bhai Tirlochan Singh of Sri Keshgarh Saheb of Punjab, Giani Gurbachan Singh, Head Granthi of Darbar Saheb (Golden Temple), Amritsar Saheb Singh Saheb, Jathedar Bajinder Singh, Takhat Abchalnagar, Nanded (Maharashtra), Bhai Esher Singh.