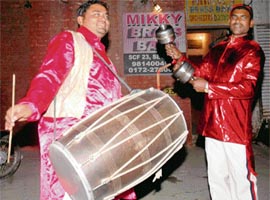 ENERGETIC beats of the dhol and spirited voices of one and all is how we welcome the festival of Lohri. And, what sends the merriment quotient higher and louder is the rhythmic beating of the double-sided barrel drum. Notorious lyrics and a bhangra swirl all come alive to its enthralling beats.
Dressed in bright red and green kurtas and a tamba (something like a dhoti) the dholis are an essential part of any celebration in this part of the region, especially on Lohri. While earlier they would visit homes asking for gajak, rewaris, gur, moongfali and bakshish, with celebrations getting bigger these artistes are booked much in advance.
Says Mikky Brass Band-18 owner Narang, "In the last five years we've seen big functions being held to celebrate the first Lohri of the daughter too." His band has four fulltime dholis and is already booked for five functions in the tricity. t dholis with city bands are not generation-trained artistes. Rather, they are young artistes from the Saanthi community and a handful from Muzaffarnagar, Saharanpur and Bhagwanpura.
For the really authentic dholis, head to Sector 15. Dattaram, Rajkumar and Ashok form one such family. Dattaram played the dhol for 35 years and then passed on the sticks to son Rajkumar. Rajkumar's 13-year-old son, Ashok started accompanying him when he was just five. "Now I can perform six hours at a stretch at jagratas too," says the lad with marked pride in his voice. His Lohri favourites are songs of Jazzy B. Every Lohri, the father-son duo first plays for the group of dhobis in Sector 15 and then heads out for functions.
So, how is it playing at family functions? "It's like spreading joy through music," says Ramesh, another dhol artiste from Sector 15. His brother Rana also started out playing the dhol and now accompanies Punjabi singers on international tours. And what do they play for Lohri? The first one-hour is reserved for boliyan. "The best thing about boliyan is that it gets the entire family to shake a leg. Right from the great grandmother to the little cousin, there is one for everyone," tells Ramesh. Some of the t popular boliyaan include Mukai da dana aana lei ke jana, and Hulle nee maiyee hulle…
What follows next is a mix of Bollywood and Punjabi numbers. Wondering what will play this Lohri? Tell these dholis — Kajra re, Dupatta tera nau rang da, Mauja hi mauja, Nagada nagada in Bollywood, Jazzy B's Romeo, Jine Mera Dil Luteya and the all time fave Boparai's De De Gera.
Well, we all know the importance of a dhol, be it in a Bollywood song, a remix number or an international festival. But does the DJ threaten the beat of the dhol? "No way, it's still as cherished and popular as ever," says Narang. His band will be sending both their DJ and dholi to the Rose Club-16 on Lohri. And, how are the keeping the tradition alive? "We keep the DJ soft and enhance the music with dhol beats," he says.
Dholis charge from Rs 500 a function and the DJ between Rs 3,000 and Rs 7,000. So, if you haven't booked a dholi yet, do it now, for your festivities will be incomplete without the deep variations of the dhol.