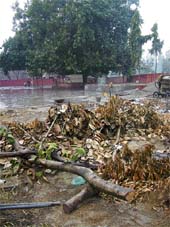 Branches of the ancient banyan tree which were cut.
Heritage lovers were today aghast to see the branches of an ancient banyan tree pruned from where five Namdharis were hanged to death. The tree was pruned by the Namdhari Sangat.
A big memorial was raised at the site, which was bifurcated from the Summer Palace of Maharaja Ranjit Singh. However, except for the old banyan tree, the other buildings have already lost their original contour. The heritage structure, which was once part of Ram Bagh and later served as a jail during the British time, had been plastered without consulting conservationists or heritage experts. The old well on the premises had been plastered from inside and a modern well added in the langar section. The boundary wall of the memorial had been constructed to separate it from the Summer Palace complex.
The Kukas were hanged to death for assassinating butchers who had slaughtered cows.
The branches of the heritage tree were pruned during the year-long state-level celebrations to mark the 150th anniversary of Baba Ram Singh's Kuka movement. The incident came to the notice when a state-level function was being held at Malerkotla to pay tributes to the 66 Kuka martyrs.
However, Ranjit Singh, president, Namdhari Sangat, justified the action as these were touching the ground and creating a hurdle for the devotees. He said it was the peepal tree which had been cut adjacent to the banyan tree. With this, some branches of the banyan tree were also cut. aRanjit claimed that he had ordered the pruning after getting verbal permission from the chief of the Namdhari sect.