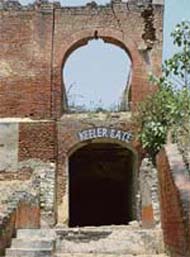 It might take at least six more months before the gates of the historic Gobindgarh Fort are thrown open to the public, as work on construction of its boundary wall is still not complete. Moreover, the district administration has run out of funds to undertake the necessary changes here. While the fort had been handed over to the state by the Defence Ministry, work has been going on at a very slow pace.
Deputy Commissioner K.S. Pannu said the construction of the boundary wall was being done in accordance with the recommendations of the Army. "The wall would separate the area of the fort being opened for public from the quarters where the Army will be stationed," he said. He said the government had sanctioned Rs 1 crore for constructing the boundary wall, but it was not sufficient.
"We have written to the tourism department for an additional sum of Rs 1.5 crore, without which it might not be possible to complete the work in time," he said. The DC added that apart from this, the district administration would prepare a master plan for the maintenance of the fort, which would include steps for generating finances and expert advice. Pannu maintained that apart from this, work on restoration and renovation of various quarters of the historic fort would be undertaken. Tourism Secretary D.P. Reddy had also toured the fort recently to take stock of the ongoing constructions here.