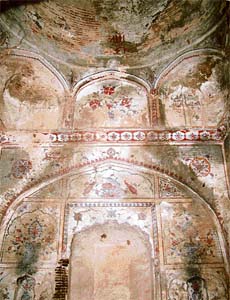 Invaluable frescos in one of the ancient buildings at Jalalabad, which was founded by Mughal Emperor Akbar.
It is a sad story of a town losing out to negligence. It was founded by Mughal emperor Jalal-ud-din Mohammed Akbar.
Even as many heritage buildings of the town have lost their existence, residents of this ancient town have encroached upon some invaluable sites. So much so that the nambardar of the village has been misusing the Diwan-e-Khas building for storing wheat straw. The elegant frescos in ques and other heritage buildings have also been damaged due to negligence of the residents.
Situated on the ruins near the bank of the Beas, 48 km from Amritsar, Jalalabad is an ancient town. Its population in 1961 was 2,213 as against 2,373 in 1951.
The Diwan-e-Khas and Diwan Khana have cellars, said to have been built by Sheikh Shabab Din of Kapurthala. Some old wells have also lost their existence. Outside the village there is an old pucca drain, traces of which can be found up to 2 km. Before the Partition, Jalalabad was a flourishing Muslim-dominated town. But after it Muslims left for Pakistan.
Since Akbar founded a new religion, Din-e-illahi (divine religion) in 1582, people of different religions started settling in the new township set up by him. The town was also inhabited by a number of Hindus who migrated to other states following Operation Bluestar. Now the Jat Sikhs who had migrated from Pakistan dominate the town.
Nambardar of the village Harbans Singh said there were many old wells, artificial lakes and ponds here which had disappeared with the passage of time.
t of the dwellings here are still made of old Nanakshahi bricks.