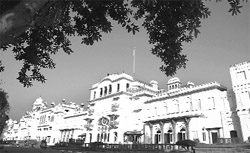 Despite receiving a grant of Rs 90 lakh from the Central Government for renovation of various historical buildings and parks in the city, the tourism department is yet to begin the restoration work.
This has resulted in deterioration of the existing structures and parks dotting the city.
The Baradari Gardens in the NIS Complex, known as walkers' paradise till a few months back, is a classic case. The garden is in such a dilapidated state that all its fountains are out of order and the water pipes required to feed these fountains, too, are slowly disintegrating.
As if all this is not enough, the garden can also be seen littered with garbage. Marble statues, which once adorned the gardens, too, are in shambles. Paucity of water and fertilisers has caused the trees and shrubs to dry up.
But seems like the tourism department has decided to sit on the grant meant for the upgradation of the buildings, instead of utilising it to give the NIS its old, lustrous look.
A spokesman of the tourism department, when contacted, said the department had actually received a grant of Rs 90 lakh from the Central Government nearly two months back but declined to comment as to why work was not started.
Meanwhile, not all is lost for all the heritage buildings of this city. The state archives department has received a grant of Rs 2 crore for the renovation of the 300-year-old Quila Mubarik and the renovation work, which will be undertaken by the ASI, will start shortly. A matching grant has been earmarked by the state government also.
Confirming the reports, Balwant Singh, conservator, archives department said, "Yes we have received the grant and work will begin shortly. It will be undertaken in phases. The ASI will take the help of artisans to preserve the artifacts in the quila."