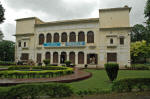 Already encroached by several private clubs, the protected Ram Bagh Garden here is involved in yet another controversy, with religious guru Murari Bapu holding a 10-day religious function from November 17 inside the Bagh. The district administration, despite objections raised by Archeological Survey of India (ASI), has gone ahead to allow the religious meeting.
ASI officials confirmed that they had written to the Municipal Corporation and district administration authorities in advance regarding the ban on public activity inside the Bagh, which is a protected monument under law, but were surprised that permission to hold the function was still granted. "It is ironic that our objections were not taken into account. We have not given permission for this function," said P.K. Badhoria, Circle Incharge, ASI.
Saying the function being held was illegal in the eyes of the ASI, Badhoria said the Bagh was declared protected in 2004 and ever since they have banned large-scale public activity and excavations for putting up pandals. The flora and fauna inside the Bagh gets disturbed and loud speakers would create noise pollution that cannot be allowed in the protected monument. "Now we are left with the no option but to take up the matter with the Centre to act against the erring officials," he said.
"We will bring the matter to the notice of the Union government's cultural department. They should take appropriate action against the officials concerned," said Badhoria, adding that they were aware that the ground was being dug up to put up tents. The 10-day function would witness a sea of people gathering to hear the religious sermons.
Even Dr Sukhdev Singh, state convenor of Indian National Trust for Art and Cultural Heritage (INTACH), told ENS, "I am surprised how permission for the public function was granted."
Interestingly, Mayor Shwet Malik, who should have objected to the function inside the Bagh, himself is part of the organising committee of the function. Residents say no one is against the function, but they object to the venue. "There are plenty of places available and an alternative site could have been selected for the function," said Ravish Kumar, a resident of the Holy City.
However, Deputy Commissioner K.S. Pannu, when contacted, said they had taken the ASI into confidence before permission to hold the function was granted. "A senior team of the ASI was here and they were told about the function. They did not object to the function, but later wrote a letter that the function cannot be allowed. However, by then permission had already been granted and preparations had started. In future, we will take care that the ASI's permission is made mandatory before any function is allowed," he said, adding that they also wanted the Bagh to be protected at any cost.