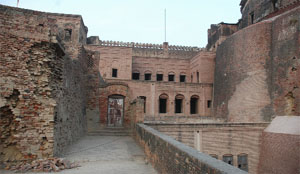 Fund paucity mars fort conservation.
The portion along the Rani Mahal in the fort is crumbling because of unattention.
The historical fort that has been declared a national monument in the heart of the town here is crying for immediate attention as successive governments in the state have been playing politics on the issue of its conservation.
Many portions of the fort have already crumbled while residents of the adjoining localities were encroaching upon the land around it. The restoration work taken in hand by the Archaeological Survey of India (ASI) was progressing at a snail's pace because of paucity of funds.
A ray of hope had recently kindled when the previous Chief Minister Amrinder Singh during his regime announced a special grant of Rs 1.25 crore for the fort's restoration; however the joy among environmentalists was short-lived as Parkash Singh Badal, who succeeded him, has reportedly diverted the funds elsewhere and earmarked only Rs.10 lakh for this purpose, sources said.
With meager resources available, the ASI has tried to protect some portions of the fort by repairing the roofs and channelising the drainage system to prevent choking of rain water that had in the past resulted in collapse of the several portions.
ASI officials said that seepage of water through the Rani Mahal and the main gate has been plugged and the rooms of the palace would be restored when funds are made available. The entire restoration was being done with mud bricks and "surkhi" and lime. The ceiling of t part of the Rani Mahal has been restored.
They said that a sum of about Rs 80 lakh had been spent on restoration of the fort during the past few years. The special grant of Rs.1.25 crores announced by the previous Chief Minister would have paved the way for taking up major restoration works. However, the work was now progressing inch by inch as per availability of funds.
Imposition of a fine of Rs 50,000 by a local court on an individual who constructed a building in the vicinity of the fort is expected to come as a deterrent for others.
Archaeologists point out that the bricks used for construction of the fort indicate it to have been built during the Kushan period during the regime of emperor Kanishka. The name of Razia Sultan, the first woman ruler of the Moughal period, is also attached with the fort.