Heritage ignored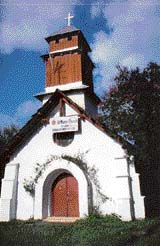 Established in 1870 and still standing tall in Kotgarh locality, the St Mary's Church is now starved of funds and crying for attention. While the majority of the Christian community in the region has migrated abroad, the 137-year-old Church reflects poorly on the heritage.
Says Rev Virender Kumar Singh, the present pastor of the Church, "About 50 to 100 people attend the Sunday service at the church." Hailing from Calcutta and living in Kotgarh for the past five years, he rues that the Church is a rich cultural legacy and yet, is starved of funds and owes a lot of money to the Amritsar Diocese.
The graveyard of the community is in utter neglect and requires attention. The Diocese has an apple orchard of 110 bighas but its upkeep is in poor shape and the funds generated from it are sent to the public school with the result that the church does not get a single penny, he laments.
The pastor wants the local Christians to maintain contacts with their roots and donate liberally for the Church's maintenance. Another problem is the constant squabbling among the Diocese members and land grabbers have also made attempts to grab the orchard of the diocese.
The seeds of Christianity were first nurtured in Kotgarh area of Shimla district during the British Raj by setting up Gorton Mission School to impart quality education. It was propagated by Satyanand Stokes and American apples were also introduced by him. The St Mary's Church was established by the protestants in Kotgarh.
While majority of the Christian community mainly resides in Bhareri village of Kotgarh and t of the population has moved abroad for greener pastures but still a minuscule population remains in the village. The community has cordial relations with the local population and no anti-missionaries sentiments have prevailed in the area.