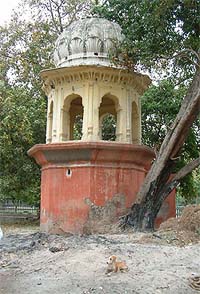 The Archeological Survey of India (ASI) has stumbled upon antique fountains and water channels, dating back to the period of Maharaja Ranjit Singh, from the Civil Defence Services Building as part of the conservation and restoration project taken up in the historic Ram Bagh.
In an interview with The Tribune, project architect Gurmeet Rai, who was in the city to attend a meeting with ASI officials, said it had been decided to commission the restoration work to a private contractor having experience in the field of conservation of historic buildings.
"Within a period of six months, t buildings inside Ram Bagh, including the summer palace of Maharaja Ranjit Singh, would be restored. One-quarter of the garden would also be laid out," she said.
On the hue and cry raised by certain environmentalists on the demolition of the baradaris inside Ram Bagh, she said the ASI did the right thing considering the pathetic condition of the structures. "The reinforcements had rotten over the years and the condition of the stone structures was also far from satisfactory," she said.
It was in July 1999 that the director, cultural affairs, and the museum department, in a communication with the deputy commissioner, Amritsar, had urged the handing over the charge of buildings situated in Ram Bagh to them, after it was declared a protected monument.
The letter reads: "You are well aware that the whole of Ram Bagh has been declared protected as per the Government of Punjab notification dated October 8, 1997. This garden is to be developed as per the rules of the department."
Any kind of activity was also prohibited inside Ram Bagh, including marriage parties and political rallies. It was also decided that the three clubs functioning inside the garden would be shifted out, in view the heritage value of the site. A copy of the letter was sent to the municipal corporation for ensuring eviction of the clubs from the historic building.
The government of Punjab, department of tourism and cultural affairs, vide notification dated April 10, 1997, had ordered protection and maintenance of ancient and historic places under sub-section 4 (1) of the Punjab Ancient and Historic Buildings and Sites Act, 1964.