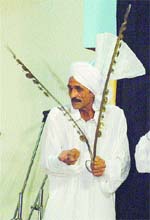 Once an indispensable part of the Punjabi folk music, the traditional instruments now are sinking into oblivion. With digital wave sweeping the music industry, instruments like "algoza" and "chimta" are restricted to a few stage performances during youth festivals these days.
For learning these instruments one does not need to remember "sargam", but has to develop a feel of rhythm. On one occasion they were reasons for the powerful performances of great Punjabi singers Gurmeet Bawa and late Narinder Biba.
"Algoza" player from Hoshiarpur Kuldeep Singh said, "This traditional instrument was generally used to tell folk tales of Soni, Mahival and Mirza, Sahiban. But in today's arena one would prefer to watch movie rather than listening to these tales."
Talking about the instrument, he revealed, "algoza" consists of two flutes with "paranda" or strings attached to their bottoms. In order to play it one has to inhale air from the nose and the inhaled air is divided into two parts, half is send to lungs and the remaining is blown in the flute.
The flute generally has five to seven holes. "If one wishes to take out sound of a girl, then we close first two holes and for boys one needs a little hoarse voice so all the holes are kept open. Its tough to play it because you have to exhale air continuously to flute without any break," says 60-year-old Kuldeep who had been playing instrument when he was 20. He said he gots Rs 1,000 for playing it for five to six days during youth festivals.
Similarly, "chimta" player Narayan Das Verma said, "You can see people playing this instrument on kirtans or stage shows. People hardly use these instruments in their social functions. But when I perform different acts on it audience really gets thrilled."
"You can play this instrumental either vertically or horizontally, but I love to play it vertically. The instrument consists of three parts, 'patti', 'chaini' and 'kara'. Following rhythm of 'dhol' or harmonium is the key to play 'chimta'," says this 50-year-old chap, who runs a cloth shop in Kapurthala.
Talking about his passion, he said he started playing "chimta" when he was eight years old and since then he never looked back. He claimed that he could play "chimta" 500 times continuously without break.
Restricting the skill to play these traditional instruments only to elders would be wrong as even young blood is entering the league. Bhupinder Singh, a 19-year-old "algoza" player says, "My father and forefathers use to play it and I learnt it from my family. I enjoy playing it, but still not sure whether would adopt it as career." Bhupinder is presently continuing his graduation from DAV College, Amritsar