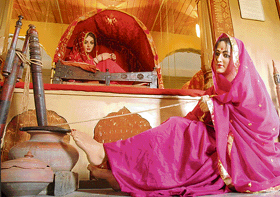 A tableau depicting a village scene at PAU's museum of rural life.
The museum of rural life at Punjab Agricultural University (PAU) has always been a centre of attraction for the faculty, students and delegates visiting the university but also for local residents and NRI's in particular. The museum mirrors the rural cultural and social life of Punjab. Situated in the 18th century building on the premises of College of Home Science, this brick museum with its arches and canopies stands out because of its architectural design.
In order to preserve the heritage of Punjab for posterity, the then VC, Dr M.S.Randhawa conceived the museum of rural life and supervised its construction.
There is a collection of rural household and farm articles, which are vanishing these days. The pictures of village artisans at work adorn the walls of rooms. Eminent painter Kehar Singh does the paintings. The verandah of the museum has a collection of various rural motifs, painted by other artist Dev.
The main attraction is the plaster of Paris dummies posing to perform different household activities from grinding grains to churning milk to knitting etc. The old, string or nivar cots are all there to recall the past and relive the memories of the decades gone-by. The traditional musical instruments like dhad, sarangi, algoze, and tabla are well displayed in the museum.
The authorities are doing every possible effort to maintain greenery all around the building. The open courtyard, an important part of rural home, is maintained in museum as realism of rural life. Dr Ramesh Kumar of Floriculture and Landscaping department of PAU said they were planning to plant variety of flowers around the museum. The authorities are also planning to install light and sound music inside the museum.
Sardara Singh, a farmer said that the museum remained the attraction among farmers during annual Kisan Melas organised at university.