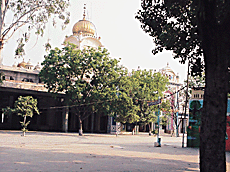 The gold mounted on one of the domes of Gurdwara Nanaksar in Jagraon was stolen last night. The theft was detected this morning when some sewadars noticed the rough patch on the dome. The police were informed.
A shocked Baba Ghala Singh, who had been supervising the 'kar seva' to install the gold sheet, said the thieves detached the sheet even as thousands of devotees and security men were at the gurdwara in connection with Sant Ishar Singh's death anniversary function that ended yesterday "It appears to be either the handiwork of an insider or that of a professional gang," he said.
Sadar SHO Gurmeet Singh Brar, however, said preliminary investigations suggested that electricians requisitioned to install lights in and around the gurdwara for the function could be behind the theft. "Their presence went unnoticed . They must have decamped with the gold cover while removing the lights after the function," Brar said. He said the police were collecting details about the electricians and they would be summoned.