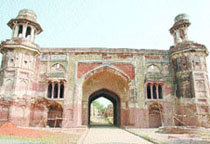 "This house was constructed more than 150 years ago by my forefathers. I have been living here since my childhood and now the administration claims that I have encroached upon the area in historic monument Serai Amanat Khan," said 80-year-old Parkash Chand.
He said the administration had even installed electricity meters since it was first introduced in the state more than 50 years ago. And now the district officers and politicians were claiming that we had encroached upon the area after Independence.
"Our houses are in very dilapidated condition. The restrictions imposed by the Archaeological Survey of India (ASI) would damage them further, if not repaired," he added.
Another resident Vijay Kumar, showing his ancestral house, rued that the ASI was not allowing him to repair his century-old house constructed by his forefathers. He said if the government wanted to acquire his house for establishing a national monument it should give adequate compensation for his house which was presently valued Rs 50 lakh.
It is pertinent to mention here that the ASI had taken up the project of repairing the monument 10 years ago which was constructed during the reign of Mughal king Shahjehan. Badshai Road passed from Attari and Goindwal via Serais Amanat Khan, Nurdin, Naurangabad and Fatehabad. These were of the same design and dimensions. The outer walls of the serai have already fallen, whereas its two gates still stood in a dilapidated condition. Outside the serai is the tomb of Amanat Khan, now in ruins.
Village sarpanch Sarwan Singh Bittu said 95 per cent of the population in the area belonged to the backward class or Dalits working in the farms of zamindars of the area.
Only 5 per cent of the population was capable of buying land and construct houses outside the complex.
He rued the district administration and said that political leaders of the area were not taking any interest to safeguard residents' interests. Showing the houses whose roofs had fallen in the absence of necessary repairs, Bittu said the people were now forced to move out of the area.
It is putting financial burden on those who were already reeling under the increasing prices of the essential commodities. It was not possible for the poor and Dalit residents to spend Rs 10 lakh to construct a five-marla house outside the serai, he added.