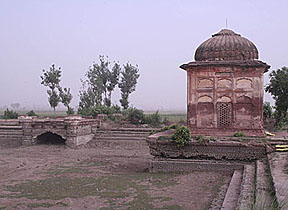 Historical building at Pul Kunjari.
Tales of valour, sacrifice and romance echoed across this dusty hamlet along the Indo-Pak border as the Indian Army today remembered its martyrs, who died fighting to regain control of this post. The Army reiterated its commitment to be ever-ready to guard the frontiers even in the times of peace. New General Officer Commanding of Vajra Corps Lieutenant General S S Kumar said his priority was to ensure the Army's preparedness for war at all times.
Kumar was here to pay obeisance at the Golden Temple after taking charge as the GOC. After laying a wreath at the martyrs' memorial here, Kumar said, "Though there is amity between India and Pakistan at present, it does not take long for the situations to change."
Kumar said it was hard to erect memorials at every place, but they were seeking support of the state government and district administrations to build monuments where whole units were martyred. The General greeted all the ranks of the Panther Division on its 43rd Raising Day.
Talking about the dilapidated condition of the monuments related to Maharaja Ranjit Singh, Major General KMS Shergill, GOC of the Division, said places as the pond, Shiv Mandir, Baradari, que and gurdwara were in dire need of conservation.
He added the budgetary estimates of the conservation have been given to the state government. Addressing various ranks of the Panther Division, he said the formation was defending the heartland of Punjab and it demands high degree of professionalism, dedication and courage.
The legend has it that Pul Kanjari was named so after Maharaja Ranjit Singh got a bridge (pul) erected for Moran, a dancer (kanjari) in his court, after she lost her shoe in the canal nearby while crossing it one day to the Maharaja's 'baradari', which is also situated there. The village surrounding it was an attractive trading centre but was ravaged in 1947, and later during successive wars with Pakistan.