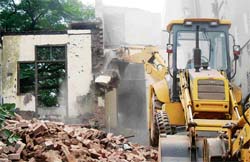 Bulldozers being used to pull down some shops and houses to make way for widening the entrance leading to the Jallianwala Bagh memorial
The district administration today early morning demolished century-old three shops and two houses to widen entry points to the passage leading to the Jallianwala Bagh memorial.
Deputy commissioner K. S. Pannu said the occupants had lost the case a few months back and the demolition was stopped due to political intervention. Finally, the occupants agreed to shift their belongings However, historians felt the government should have kept the old buildings intact which were witness to the massacre in which hundreds of Indians died facing the bullets of General O' Dyre.
The shops and houses to the left side of the main entrance were demolished to clear an area of 1000 sq yards to be utilised for the parking of the vehicles during the visit of dignitaries.