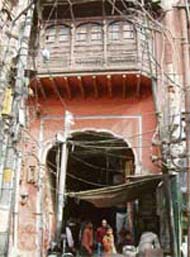 The main gate of Ahluwalia Fort.
The Central government has earmarked Rs 50 crore for the preservation and restoration of Gobindgarh Fort, built in 1760, and Rs 10 crore for conservation of the 250-year-old Ahluwalia Fort, near the Golden Temple.
While the work on the Ahluwalia Fort would be carried out by INTACH, the conservation of the Gobindgarh Fort would be the responsibility of the Department of Cultural Affairs. The amount had been allocated for the Ahluwalia Fort following the visit of Montek Singh Ahluwalia, deputy chairman, Planning Commission.
According to A.S. Miglani, director, Cultural Affairs, the department has already released Rs 25 lakh to the executive engineer, PWD, as initial amount for strengthening of the boundary wall and surrounding road. He said it was being done from the security point of view as per the condition of the Army to hand over the fort to the civil authorities. The rest of the amount would be released in a phased manner, said Miglani.
The Indian National Trust for Art and Cultural Heritage has already prepared detailed drawings of the two gates of the Ahluwalia Fort. The story about the crumbling fort was first highlighted in the columns of The Tribune.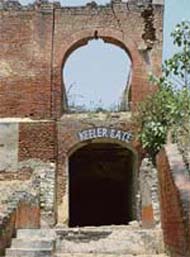 The keeler gate of Gobindgarh Fort.
Sardar Jassa Singh Ahluwalia played a pivotal role in repelling foreign invasions during the 18th century. He was acclaimed as a supreme leader of the Khalsa Panth and awarded the title of "padshah" (king) or "Sultan-ul-Qaum" (emperor of the Sikh community) after the conquest of Lahore by Sikhs in November, 1761, and the death of Nawab Kapur Singh Faizullapuria.
The indifference shown by the SGPC towards Sardar Ahluwalia can be gauged from the fact that the Ahluwalia Fort, a few yards away from Harmandar Sahib, auctioned in the beginning of the 20th century by the British Government, is hardly visited by any official or senior Sikh leader. The site of the fort has emerged as a big shopping hub even as no one has bothered to preserve this heritage building.
However, one of the gates, well and certain parts of the building are intact. These could be preserved if the state government pays proper attention to it. According to historians, the fort was intact till 1850. Sardar Ahluwalia used to stay there. However, during the British regime, Marwaris purchased it in an auction.