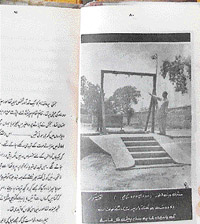 A rare picture of the noose that was kissed by Shaheed-e-Azam Bhagat Singh.
In the euphoria surrounding the birth centenary celebrations of Shaheed-e-Azam Bhagat Singh, a city-based Ayurveda practitioner has claimed that he is the proud possessor of a rare picture of gallows that were kissed by the martyr and his two comrades in Lahore in 1931.
Dr Ravinder Kumar Vatsayan wants to share the picture with Ludhianvis on the hundredth birth anniversary of Bhagat Singh. The gallows, which were a part of Lahore Central Jail, where the trio were kept before execution, were demolished by the Pakistan government in 1965.
The picture, in possession of Dr Vatsayan, is a part of an Urdu book Pass-e-Diwar-e-Zindaan (meaning-behind the walls of prison), penned by Agha Hassan Shorish Kashmiri, a Pakistani writer that was bought by this city resident during his visit to Lahore in 1994.
''I wish that every Indian has a look at the picture of the scaffold. Had it been there today, it would surely have been a mecca of Indian patriots, '' says Dr Vatsayan.
Reading out the caption of the picture in Urdu, Dr Vatsayan said the picture was clicked by the author after the martyrs were executed.
''I somehow went to meet the author during my visit to Lahore and I came across this book that would be of immense interest to every Indian. When I read it I was astonished to see the picture in black and white. The martyr had kissed these for our country. The very look at it is enough to shake every Indian and fill him with a sense of gratitude for these martyrs, '' he added.
Recalling the days after the Independence, Dr Vatsayan said he was quite young when the issue of demolition of Lahore Central Jail had cropped up in 1965. There were protests from this side of the border and even the Indian government had taken up the matter with Pakistan urging upon its government not to raze the structure that could have been a national monument for India.
As Dr Vatsayan narrates the event, one is reminded of noted writer Kuldip Nayar's lines in his book ''The Martyr'' when he writes, ''There is no arch, no plaque, not even a stone in Pakistan to commemorate the execution of Bhagat Singh and his two comrades. Lahore Central Jail, where the three revolutionaries were hanged on March 23, 1931, has been demolished. Their cells have been razed to the ground as if the establishment did not want any sign of their execution to remain.''
He adds that after demolition a residential-cum-commercial complex-Shadman (meaning Abode of Happiness) was constructed in its place and a round about in place of the scaffold.