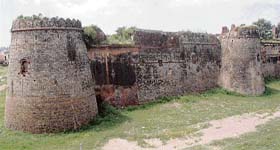 The city takes pride in its well-planned infrastructure and splendid architectural works. Even as it gears to stake its claim on the world heritage status, an ancient fort continues to remain neglected and is in ruins.
The Mani Majra fort is in a dilapidated state, much to the dismay of residents. The gates of the fort are locked and the outer walls are overgrown with weeds and bushes. People have little knowledge of the fort. All they know is that there is a "quila" in their town. They expressed ignorance on its historical significance.
"We just know that there is a quila that stands tall in our locality. Nobody ever goes there or knows much about it," Ram Chander, a resident, said.
UT administrator S.F. Rodrigues visited the fort on July 6 and instructed officials of the administration and the MC to prepare a holistic plan for its renovation. He was pained to see the collapsed structures and had instructed that a core group be set up for reinstating its infrastructure and historical significance.
"We have written a letter to the chairman of the Trust in Faridkot and will soon make it a sought-after destination for people. Efforts are on to make it a joint venture of the UT adminsitration and the trustees," said Krishan Mohan, home secretary, Chandigarh administration, adding that extensive repairs were required.
Spread over 4 acres, the inner walls of the fort can collapse any time, said Gurdev Singh, a trustee of the fort for the past 18 years.
He said the fort was the property of Maharawal Kewa Ji Trust of Faridkot. The fort was built by a local chieftain, Garib Dass, and his son Gopal Singh in the second half of the 18th century.
"All decisions are taken at a meeting comprising the trustees," he added.