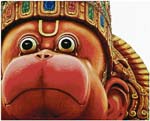 Though India has a rich collection of objects of past to prove that it is one of the oldest civilizations, the people at the helm of the country are least concerned to preserve its cultural heritage.
It is the irony for the people of our country that even though we have incomparable treasure of objects of art and culture, t of these have been brought to light by art historians, critics and scholars of the West.
No wonder we lost t of our wealth of folk and tribal arts on account of indiscriminate vandalism, rapid industrialisation and decay. In fact, until recently they were not regarded as art objects, but simply dismissed as crafts or articles of daily use.
Home of folk art, a museum in Urban Estate, Gurgaon, is the brainchild of K.C. Aryan, a renowned artist, who raised his voice for saving the neglected artistic heritage objects, but in vain. As his contribution in this field, he set up this museum in 1984 to house vanishing folk articles, tribal and neglected art objects in an artistically designed building.
This centre has a vast collection of objects that have become more or less extinct in India. The objects have been collected from alt all states, but special focus is on three provinces, Himachal Pradesh, Punjab and Haryana.
Today, these works can only be seen in the galleries of London Collections or Aryan's private museum. The irony is that despite many requests made by Aryan to the union and the state governments, no space has been allotted to him for setting up a museum.
B.N. Aryan, son of K.C. Aryan, and director of the museum, emphasises that considering the large number of art objects, it is essential to have a separate building so that it gets the kind of exposure it deserves. It could also be a good tourist spot for both Indians and foreigners who have interest in our rich cultural past.
He says there are around 200 different postures of Hanuman. The board of trustees has planned to set up a separate Hanuman gallery, but it could not materialise due to the lack of space.
Aryan says his father approached the government in 1984 to allocate space for the construction of the building but till date nothing has materialised. A number of foreign governments have approached my father to set up this museum in their country, but he has refused all offers, Aryan claims.
The artifacts displayed in the museum includes woodcraft objects, iron vessels, embroideries from Himachal Pradesh known as rumals, phulkaris from Punjab, kanthas from Bengal, hangings from Gujarat, shawls from Swat and lithographs from Amritsar.
Other objects include terracotta figurines, religious art objects, traditional paintings, woodcarvings, metal plaques and minor art. There is also a collection of around 200 Shiva heads and a large number of life-size mukhalingas from Karnataka.