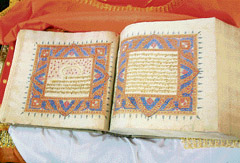 Holy manuscripts kept in the Sikh Reference Library, SGPC complex, that would be preserved with the help of Archaeological Survey of India
The SGPC has decided to engage the services of the Archaeological Survey of India (ASI) to preserve more than 400 rare manuscripts, including that of holy Guru Granth Sahib, lying in the Sikh Reference Library at the Golden Temple complex here.
Chief of the committee Jathedar Avtar Singh and deputy commissioner Kahan Singh Pannu held detailed discussions with experts in this connection.
After holding a meeting with Chief Minister Parkash Singh Badal at Chandigarh, the SGPC president said the issue of preserving the rare manuscripts, including hand-written Birs, would be taken up at a meeting of the executive committee likely to be held after September 20.
Talking to The Tribune, Pannu said the district administration would work in tandem with the SGPC to preserve the monuments of Sikh heritage, including Ramgarhia Bungas and Gurdwara Baba Atal. He said the services of D.P. Gupta, who is a consultant with the ASI, and Manvinder Gill, an expert, were being solicited.
Earlier, many manuscripts of the library, repository of over 1,500 rare manuscripts, including copies of the Adi Granth, Damdami Bir (dated Bikrami 1739) and various portraits and manuscripts, were destroyed in the Operation Bluestar. The SGPC collected the manuscripts from various sources.
The library also has a number of handwritten manuscripts of Guru Granth Sahib and Hukmnamas, some bearing signatures of revered Sikh Gurus, and a few rare documents pertaining to India's struggle for Independence.
The library was established in 1946. According to Sukhdev Singh Jhand and Santokh Singh Shaharyar, eminent Sikh scholars, the credit for establishing the library goes to the SGPC, but a significant role in its establishment was played by the Sikh Historical Society, established in 1930 at Lahore under the leadership of Bawa Budh Singh.
Though the society could not remain active after the death of its founder, it laid the foundation for the the establishment of a central library, which could house the literature related to Sikh Gurus, Sikh religion and the related fields. To look into the issue, a meeting of Sikh scholars, historians and others was held on February 10, 1945, at Khalsa College, Amritsar, under the presidentship of Princess Bamba, daughter of the late Maharaja Duleep Singh, the youngest son of Maharaja Ranjit Singh.
The Sikh Historical Society was formed at the meeting. Bylaws of the society were passed and a working committee was constituted. The society comprised Teja Singh, Bawa Prem Singh, Bawa Harikrishan Singh, Gurmukh Nihal Singh and Ganda Singh. It became instrumental in establishing the Central Sikh library the name of which was later changed to Sikh Reference Library.