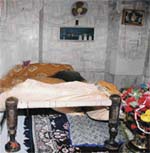 The "manji" established by Guru Amar Das at Narli village in Tarn Taran district.
More than four-and-half-century old "manji"(one of the 22 dioceses) established by Guru Amar Das is still intact at Gurdwara Manji Sahib.he gurdwara was raised in memory of Bhai Mai Manak Das in the border village near zero line. The Narli village of Majha region came to be one of the major centres of Sikhism following establishment of the "manji" .
Guru Amar Das copied the old system of administration when he set up his 22 "manjis". Bhai Mai Das held one of these.
Bhai Mai Das, a strict Vaishnav came in contact with Guru Amar Das and became his disciple. When he came to see the Guru he was informed that unless he would first have to eat from the Guru's kitchen and then see him. Being a strict Vaishnav he did not do that, so he left the place to complete his pilgrimage.
According to Sikh history, one day he heard a voice,"You have not eaten food from the Guru's kitchen and you did not see him, so you will not obtain perfection. If you desire to do so then first behold Guru Amar Das." Upon this Bhai Mai Das returned to Goindwal and partook langar and then was allowed to see the Guru. The Guru welcomed him, "Come, Mai Das, thou art a special saint of God." The Guru initiated him as his Sikh, gave him "naam" and bestowed on him the spiritual power of conferring salvation on others.
The old structure where the "manji" was set up has been demolished. The marble has replaced old "Nanakshahi" bricks.
The history of Narli, written by Heera Singh of the village stated that the "manji " was shifted from Chathianwala to Narli by Bhai Manak Das due to old age of Bhai Mai Das. Hence, the "manji" came to be known in the joint name of both Bhai Mai Das and Bhai Manak Das. However, the "samadhas" of Bhai Manak Das at Chathianwala had been destroyed with the passage of time.